Let us help you finally get the perfect fit
Say goodbye to baggy shirts, sleeves too short, shirts that should not be crop tops, and pants that just do not fit. Use our fit guide below to find your size and check out our 'Size Up, Size Down' program if you're still unsure!
A few fit tips to get started...
1. Our clothing is intentionally designed to be more fitted

Many elevated men settle for clothing that is wider in order to gain length, or shorter in order to have an item be more fitted but this results in a less than ideal fit — Navas Lab clothing is tailored to be fitted on tall guys.

2. Tall is not one-size fits all

Your measurements are one thing, but your preference for fit is also a factor. We have men from 6' and 178 pounds to 6'10" and 325 pounds wearing Navas clothing and our sizing reflects this.

3. Size Up, Size Down

This program gives you the freedom to try on at home and return what doesn't fit — no questions asked!

Simply add at least 4 items to cart
Enter SizeUpSizeDown at checkout
Return what does not fit for a full refund; we do ask you keep at least three items (or two if you order the four minimum)
Only available to new customers
Our Fit Guide
We offer multiples sizes to cover different heights
We've worked with pattern makers to tailor a flattering fit specifically for tall guys over 6' tall — no more going up a size like in 'regular' store. Choose your Navas size based on your height and only if your fit preference is baggy should you size up!
1. Find your size
If you need more length, the 'T' or 'Extra Tall' size adds an extra 2" of sleeve and body length.
| | | |
| --- | --- | --- |
|  SIZE | FIT | YOUR HEIGHT |
| S | Regular Tall | 5'6"-5-8" |
| M | Regular Tall | 5'9"-5'11" |
| MT | Extra Tall | 5'10"-6'1" |
| L | Regular Tall | 6'0"-6'2" |
| LT | Extra Tall | 6'1"-6'4" |
| XL | Regular Tall | 6'3"-6'6" |
| XLT | Extra Tall | 6'4"-6'7" |
| XXL | Regular Tall | 6'5"-6'8" |
| XXLT | Extra Tall | 6'6"-6'9" |
2. Measure your garment
If you've got a similar garment you love, grab a measuring tape and compare it's measurements with our Navas garment size charts below.
3. Add to cart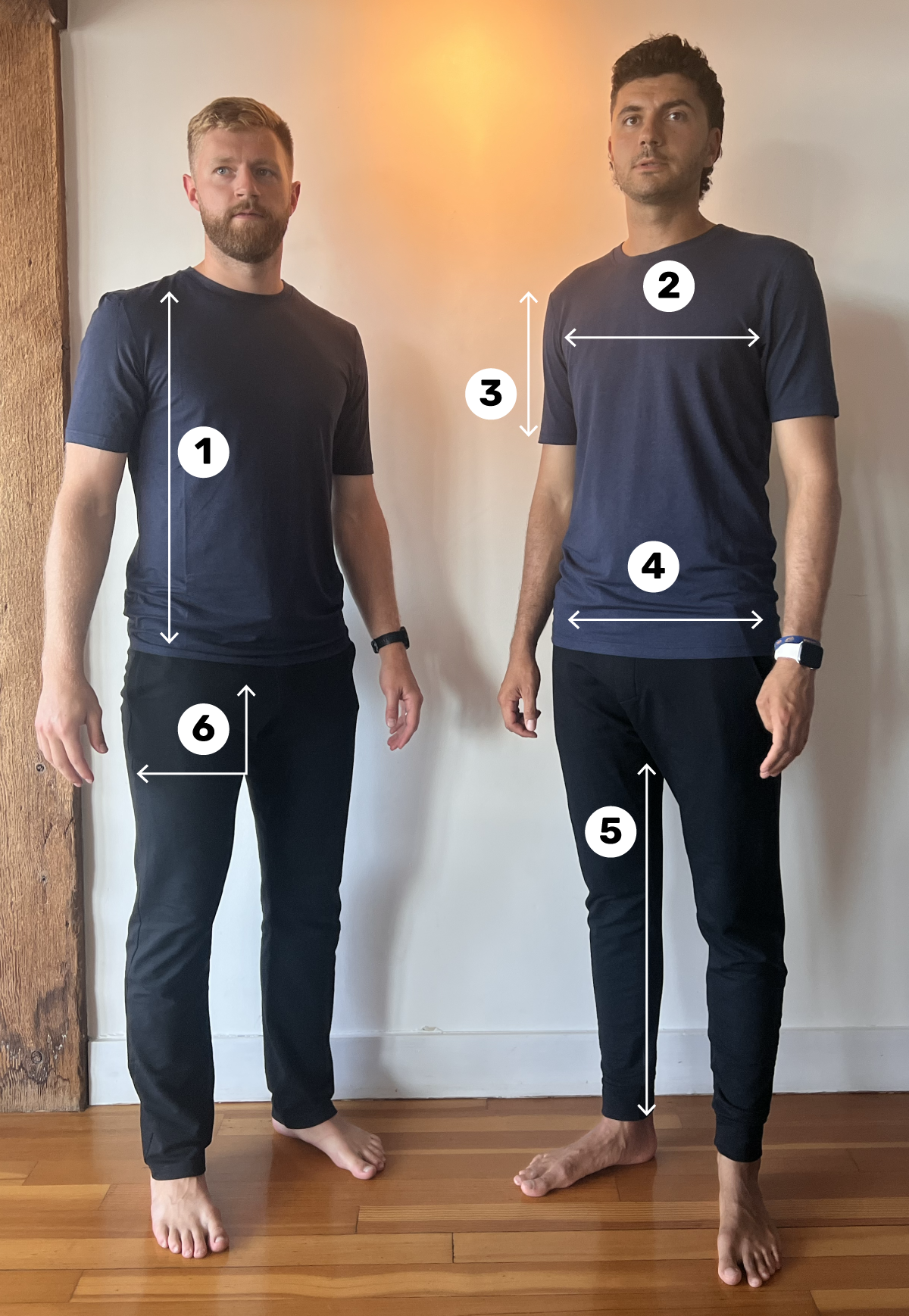 It's all about the proportions
Longer body lengths to keep your stomach covered when you stretch—no more crop tops!
Adjusted chest and torso proportions to fit your frame perfectly
Extended sleeve lengths to fully cover your wrists
Waist sizes from 32"-38"
Inside leg ranges from 34"-36"
Longer rise and more fitted thighs — no more excess fabric!
Lars on the left is 6'3" 220 lbs and Gabe on the right is 6'7" 200 lbs. Both are wearing the Crowe Bamboo tee (XLT) and Blain Joggers (34x36).
FAQs
What is my Navas size?

Because there are different types of Tall, at Navas we have two options for shirts: (1) "Regular" Tall typically for men 6' - 6'5" and (2) "Extra" Tall for men 6'6" - 6'9"+. Please check out our Fit Guide for details on all our clothing. Both your measurements and preference for fit are factors and should you desire assistance, reach out to our stylist at jodi@navaslab.com
Can I wear a Navas tee to the gym?

Our tees are great for the gym because your sweat doesn't mean you have to stink as well (bamboo is anti-odor, whew). We make every item at Navas with versatility in mind … wear it to the gym, tees under a sport jacket or blazer, with jeans, under a vest or peacoat, on the golf course or at the office. And, our joggers and lounge pants give you style when you are not trying.
Is Navas clothing good for travel?

Navas is soft, comfy, and defies wrinkles. You can step off the plane and throw a blazer over one of our tees and not only will you look stylish with ease, but you won't stink either (another shout out to Bamboo on being anti-odor).
Where do you design and make Navas?

Every item is proudly designed and made in our backyard of Vancouver, British Columbia (add red maple leaf here).
Is Navas vegan?

Yes, all our materials are vegan. Navas - the cat - is an obligate carnivore, however.