Crowe Premium Mix | Tall Crew Tee
Lightweight premium designed. Practical and stylish fitted tee, versatile for any situation from office to gym, under a blazer or vest, or solo with Navas lounge or jogger pants as well as jeans or shorts. Made of bamboo for anti-odor all day wear.
Designed and manufactured in Vancouver, Canada.
Use sizing chart below for fit guidance.
The Crowe Premium Mix is a luxe fitted tall tee that was carefully crafted for tall men. This tall t-shirt feels amazing and fits tall guys of any height with grace.
Navas Lab is the leader in functional size tall guys clothes and the Crowe Premium Mix is a practical and stylish t-shirt you can wear in almost any situation.
At Navas, we are tall guys too so we know that tall guys that are also slim still struggle to find shirts that fit properly and look good. If you're tired of XXXL and Big&Tall t-shirts that don't look or feel good, you may have just found your new favorite shirt.
Urban tall tees - big features
Our Crowe Premium Mix premium tee comes loaded with luxe features you will only find at Navas Lab. From the bamboo fabric blend we use to the perfect fit for tall slim guys - we are passionate about every aspect of the clothing we produce.
The proven anti-odour properties of our bamboo fabric makes these best tall t-shirts a must-have in any wardrobe. The cut is ideal for tall slim guys and the casual look is perfect for any situation.
Lightweight heathered viscose material
Naturally wicking and antimicrobial
Anti-stink
Designed and manufactured in Vancouver, BC
Prototyped on our 6'6" co-founder before going to market


At Navas we are very proud of our fabric. While designing the Crowe Corian Mix tall tee, we were focused on creating a product that you can wear proudly. We design and produce all of our clothing ethically and sustainably in Canada.
The amazingly soft viscose material blend is perfect for active tall men due to its breathability, stretch and anti-odour properties. You will love the moisture-wicking capabilities of our viscose blend fabrics.
The Crowe t-shirts are specifically designed to be worn in any situation you might find yourself in. From playing sports to just lounging around the house - you will LOVE the Crowe Corian Mix tall t-shirt.
65% polyester / 30% viscose/ 5% spandex
Fibers and processing meet the OEKO-TEX standard 100 for environmental friendliness
Dyed without heavy metals, phthalates, lead or formaldehyde and meet OEKO-TEX 100 environmental standards
Locally sourced
Size matters when it comes to clothing for tall slim guys and a tall tee is no exception. If you have had your fill of wearing baggy, ill-fitting shirts, the Crowe Corian Mix tall t-shirt is exactly what you've been looking for.
All our clothing is optimized for tall guys 6'2" and above with a slim build.
Say goodbye to feeling uncomfortable with baggy shirts and hello to being comfortable and confident in a Navas Lab's tall slim tees.
Model is 6'6"/ 200cm, weighs 220lbs/ 100kg and is wearing XL.
At Navas Lab, our clothing is made intentionally to keep its shape for years and keep you at the top of your style game.
Your Navas Lab clothing is durable and resilient for how you wear it.
Toss in the wash on cold water, hang to dry, wear & repeat for years
Do not bleach or use fabric softener
Do not iron or dry clean
And, for good measure ... close zippers before washing
#HonorYourHeight
Other tall tees from Navas Lab
Navas Lab also offers other styles of tall tops for tall skinny guys. We are one of the few brands with tall sizes. Check them out below:
The Drake V2 Microstripe V-neck t-shirt is made from a premium blend of bamboo, cotton and spandex fabric. It's the tall guy's new favorite everyday t-shirt.
The Crowe Tencel organic cotton t-shirt is our version of the perfect tall tee. This clean-cut, crew neck t-shirt will become a staple in your wardrobe.
Customer Reviews
Edinburgh to Las Vegas and back again
Ordered and got 3 T-Shirts sent to me in Scotland. Then jumped on a plane and headed for Vegas for a conference. Needed t-shirts that fitted well and could be worn instead of a casual shirt. They were awesome, comfortable, fitted really well and were cool enough despite temps up to 110F. I now need to road test them in the cool of the UK…. Thanks again Navas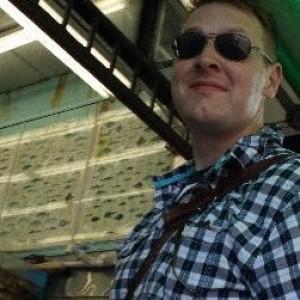 JO
01/11/2022
Justin O.

Canada
My New Favourite
This fabric is good and thick and, most importantly, long and fitted enough in all the right places for my abnormally long torso.
Crowe Premium Mix | Tall Crew Tee